This post is for my presentation at MLC School Burwood, August 4 & 5 on creating iBooks for the music classroom. Get ready to Make Innovate and Create.
iBooks Author, What is it?
If you have an iPhone or iPad (and these days they are everywhere) you can download a free app called iBooks. iBooks is a great way to read and view bought books, PDF's and books that you create using Apple's iBooks Author software.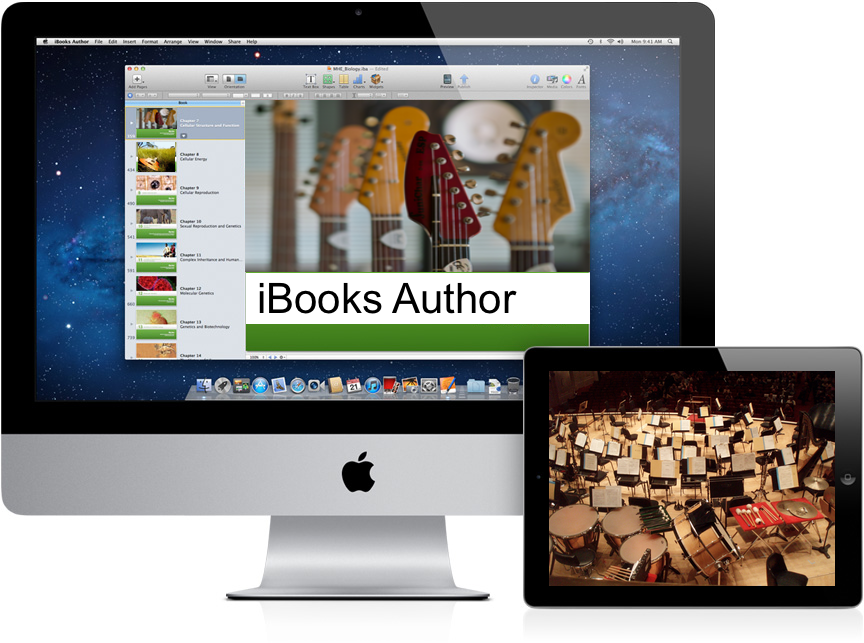 There are many websites and blogs dedicated to tutorials and methods for creating your own iBooks such as this collection of videos on the Mac App Store by SCOTutor, the free ebook Publishing for iBooks Author, this link from Maclife on embedding media into your iBooks, and even making comics in iBooks!


This post will endeavor to help you plan, collate and organize all of your resources into an iBook that you can use for teaching, demonstrating student achievement or for publishing your own content.
Step 1
Buy a Mac, make sure it has OSX Lion or the new Mountain Lion installed, then install the program iBooks Author from the App store. You can only make these iPad books with the latest operating systems.
You also need an iPad with the iBooks app installed.
Step 2
Invest time in researching, watching tutorials, collating links or free templates that you can use. You are only limited by what you can do. Try to find out what is possible and then be as creative as you can within that framework.
Step 3
Plan, horde and create the audio, images, text, scores, lessons, PDF's etc that you will include in your book. The following Creative Commons Booklet (click here to download the PDF) will help you.
If possible, always use Creative Common images and audio. You can search for Creative Commons images using Compfight, or Creative Commons icons with Icon Archive. Audio & Video resources are linked inside the booklet.

For music educators the ability to include screenshots from Sibelius or Finale is a definite bonus when creating resources. Then there is the ability to include videos of your scores using Sibelius Firsts' export to video feature. Make sure to include these in your projects.

I personally use Evernote to collate and plan all of my iBooks projects. Dropbox can be used to deliver and share projects across staff and students as well

Step 4
iBooks has the ability to import interactive widgets. These include interactive images, quizzes, Twitter feeds, Youtube and Video clips, Google Maps and 3D Objects from Google Sketchup's 3D Warehouse.
• Class Widgets
• iBook Widgets (in development)
• Built-in widgets using Media


Step 5
Create your book by choosing a template and setting out its structure. This in itself is the fun part. You can start to see your book take shape and you can preview it anytime – if your iPad is connected with iBooks open.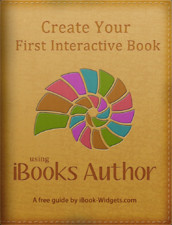 I highly recommend the book by Ted Bendixson & Niels Van Spauwen entitled, "Create your first interactive book using iBooks Author." It covers everything from the beginning stages to applying for your own ISBN and placing it on the Apple Store.

You need to remember about copyright. Keep the copyright of images and audio by referencing them and the copyright of your students/school by securing Creative Commons Licenses before you publish works/scores with iBooks Author.


What does this mean for Music Education?
1. You can create whole units of work as interactive books that you can update and teach from each term
2. You can setup projects on a grand scale for your staff and students to complete, present and publish
3. Students can take control of their learning and deliver projects in a real-world format
4. As books on the iPad can be annotated and commented on students can work from them in class and email lesson notes directly from the book
5. Audio, Video, Scores, Videos of Scores, Quizzes and more can be at your fingertips
Best of all they can be wirelessly presented thanks to AirParrot, Reflection and Apple TV's.


Cover image thanks to http://justspencer.files.wordpress.com/2012/01/ibooks-author.png
Other images from Apple and mentioned or linked-to sites