This project was a great one to work on with Kindergarten! It was an entire 6 week unit and I was able to incorporate body percussion, graphic notation, singing and creating our own 'Gruffalo' themes. Before I begin I must mention that purchasing all the necessary materials is very much worth it and they are referenced in the post below.
Kindergarten (PYP Music) and I were investigating themes and characters in stories while learning our solfege pieces. I wanted to join these aspects into a responsive set of lessons ending in a creative component. Because they were all engaged in the story from the start I started using Body Percussion with the rhyming elements and classroom percussion to perform it. If you don't know the DVD version it also has a beautiful score written by Rene Aubry which you can purchase on iTunes. The Piano Book is also available for purchase. This allowed me to create a series of Graphic Notation Worksheets that the students would 'sing' from and ultimately compose their own music on.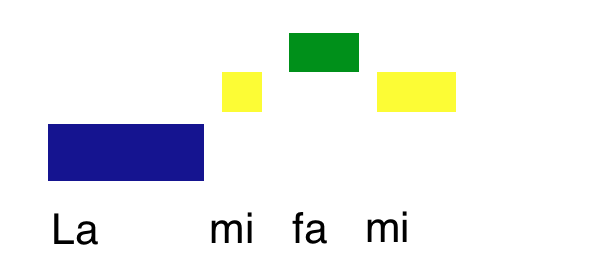 Above is the theme for 'Snake' and I had my kids play it on the classroom percussion while singing it – Lah Pentatonic- in Kindergarten! It was made in Apple's PAGES program and I have attached three of my »resources here for you to download in PDF format. Let me know what your students think!
The key was to keep modeling each activity, making sure they understood and had fun responding and creating. There are some more wonderful Gruffalo orientated activities at the Official »Gruffalo Activities Page.

Video 2: http://youtu.be/y-x9acdXHrk
Video 3: http://youtu.be/HksmH1XaE9o
Each video above was made to go through the word-rhymes as written by Julia Donaldson in her book. By having my students follow along (in real life, not via video), chanting and performing the body percussion I built the scaffolding to help them make their own music later. These videos were to link to their composed graphic scores later via QR Codes.
The last step was to have the students create their own 'Gruffalo Themes' that they would play on the xylophones or body percussion. We would dance, beat and even sing each others ideas and then, when they were finished, I had them displayed with QR Codes for all to see!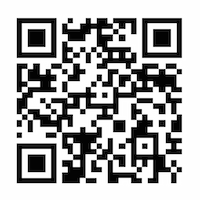 If you click on the image on the left and scan with a QR Reader on your Device a video will play with one of my Kindergarten students performing their composition. It is a great way to
»Display a students work.
If you would like to make your own QR Coded work you will need to visit the App Store or search online for a QR Generator. Something like this
QR Code Generator
was great because it allowed me to link to various media types easily. Let me know if you get to create your own 'Gruffalo Themes' with Kindergarten.
References:
1. Donaldson, J. and A. Scheffler. Gruffalo Join in Activities. 1999 [cited 2015 February]; Online resources and lessons]. http://www.gruffalo.com/join-in/activities/?page=12
2. Donaldson, J. and A. Scheffler, The Gruffalo. 1999: Pan Macmillan. 32.
3. Donaldson, J. and A. Scheffler, Gruffalo Activity Book. 2007, UK: Pan Macmillan.
4. Gillett, D. Gruffalo Website. 2013 [cited 2015 Feburary]; Gruffalo online resource review]. http://davidgillett.co.uk/gruffalo-website/
5. Scheffler, A., Gruffalo Title. 2012, fandomwanderers: https://fandomwanderers.files.wordpress.com/2012/08/gruffalo-logo.jpg.