Seeing the languages of Music, Mathematics and Coding are so closely intertwined I wanted to give my students a lasting experience in creating with these elements. I was very fortunate to be able to present this very course at the recent Apple Distinguished Educator Academy in Amsterdam this July. Sharing powerful learning opportunities with others is the goal, because this then improves the learning of everyone. The following three steps will contain:
1. An iTunes U Course accessible on any IOS device.
2. An outline of the lessons with links and steps.
3. A Video Reflection on my experiences teaching this unit in South Korea.
* Finishing with an advanced student example based on Pi.

This post will focus on using the patterns found in Music and Mathematics to then apply it to coding concepts. My aim is for non-musical and musically minded students, to find ways of expressing their creative ideas in a variety of ways. All of my lessons are accompanied with content, work-samples as well as non-technology based activities. Because Music is meant to be performed! Below are four links you might want to investigate now: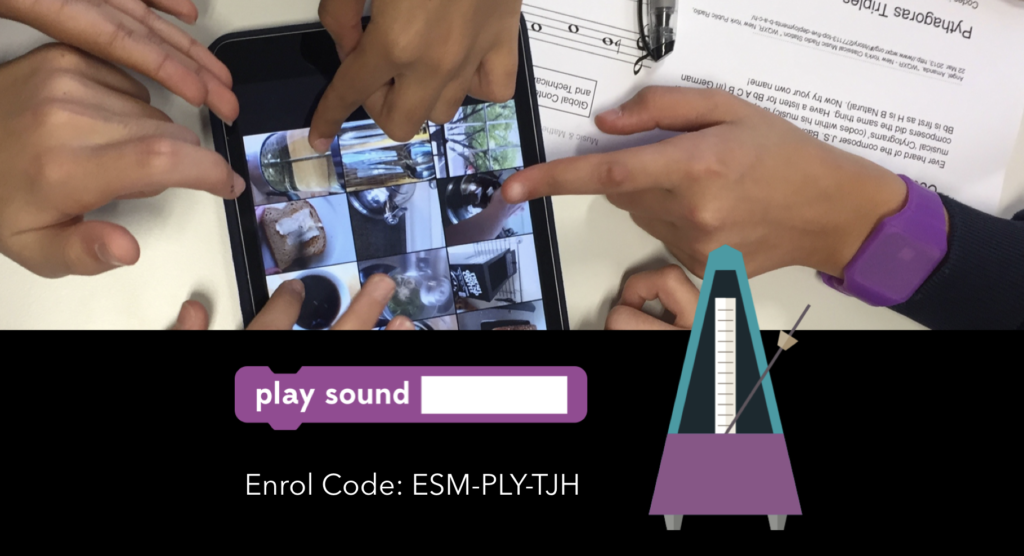 Number One.
iTunesU for Educators is a fantastic way to deliver a curriculum straight to a mobile device. Using the enrolment code above and the plus button inside the iTunes U app, this course will be added directly to your device. If this enrol code is ever updated I will post it here.
If you do not have an IOS Apple Device this references list of my sources and links below will structure the lessons for you to adapt. All I ask is that you attribute and share your students results with me!
Number Two.
If you do not have an IOS device I have prepared some slides with QR codes, lesson ideas and more for you to adapt. Check them out below and feel free to ask me anything about the lessons or approaches to teaching the content.
Number Three.
I began by teaching this embedded lesson in South Korea. The result was incredible. Students visualised, listened to, performed and connected ideas they had never considered before. All without language being a barrier!
Student Example.
Please leave a comment and let me know what you think!
I will close with a more advanced example of a student who used the numbers of Pi to create her own three movement work. The numbers above the score represent the digits chosen from Pi = 3.1415926535897 etc. to which Joanna composed tetra-chords or melodic fragments.