As part of the new year I plan on regular articles for all matters concerning music education and technology. Teachers in Australia are busily preparing coursework, lessons and materials for 2011 so I thought I would make available an interesting set of resources I used with my Year 7 & 8 students last year.
Mussorgsky was a Russian composer who is probably best known for his Night on Bald Mountain which Disney used in their 1940's Fantasia film. However, Mussorgsky's set of programmatic works entitled "Pictures at an Exhibition" showcases many beautiful melodies (utilising pentatonic scales and Russian folksongs), exciting rhythms and visual material to engage the imagination. A great way to get junior students 'into' the music. As BBC Radio 3, an excellent depository for music history and performances outlines:
"Following the death of his close friend, Russian artist Victor Hartmann in 1873, Mussorsgky attended an exhibtion of his work and was inspired to compose a piano suite depicting some of the paintings, drawings and designs that he had seen. The composer wrote the suite very quickly and it became a potent example of his Russian nationalist sentiments and his desire to 'realistically' capture pictorial ideas in music. The piano suite cried out to be arranged for orchestra, and one who took up the challenge was Frenchman Maurice Ravel, who made his remarkable orchestration in 1922."
BBC 3 Radio 3 has a program called "Discovering Music" where they also manage a video library of performances of famous works with analyses. These could be used for junior students to expose them to art music or senior students for the analysis of the works. Visit here for a performance of "Pictures at an Exhibition" by the BBC National Orchestra and an expository analysis by conductor Charles Hazelwood.
Programme Music expresses extra-musical ideas, whether of mood, narrative, or pictorial image and is hence a great way to interest students in Romantic era music.
(Oxford Music Online. 28 Jan. 2011 .). The Russian cartoon below demonstrates Mussorgsky's imaginative composition "The Hut on Fowls Legs," upon his viewing a picture of the house containing the witch Baba Yaga. If you are familiar with his works you will notice many themes woven into the clip, including "Ballet of the Un-Hatched Chicks."
Along with worksheets, performance opportunities of the Great Gate of Kiev theme and analysis of its pentatonic construction I needed to contruct an application that would link the Russian Romantic music of Mussorgksy with the contemporary tastes of my students. Lucky for me rock group Emerson Lake & Palmer just so happen to have made their own progressive rock version of "Pictures at an Exhibition." So was born my idea to link themes from Mussorgsky to ELP with musicological questions (+ score reading) as a fun activity for my students.
I built the project inside Adobe's Flash Catalyst software and then exported it into Flash CS5 to finish it off. Catalyst opens up Adobe software to students for the easy creation of animation, menus and applications without having to know coding! I highly recommend it.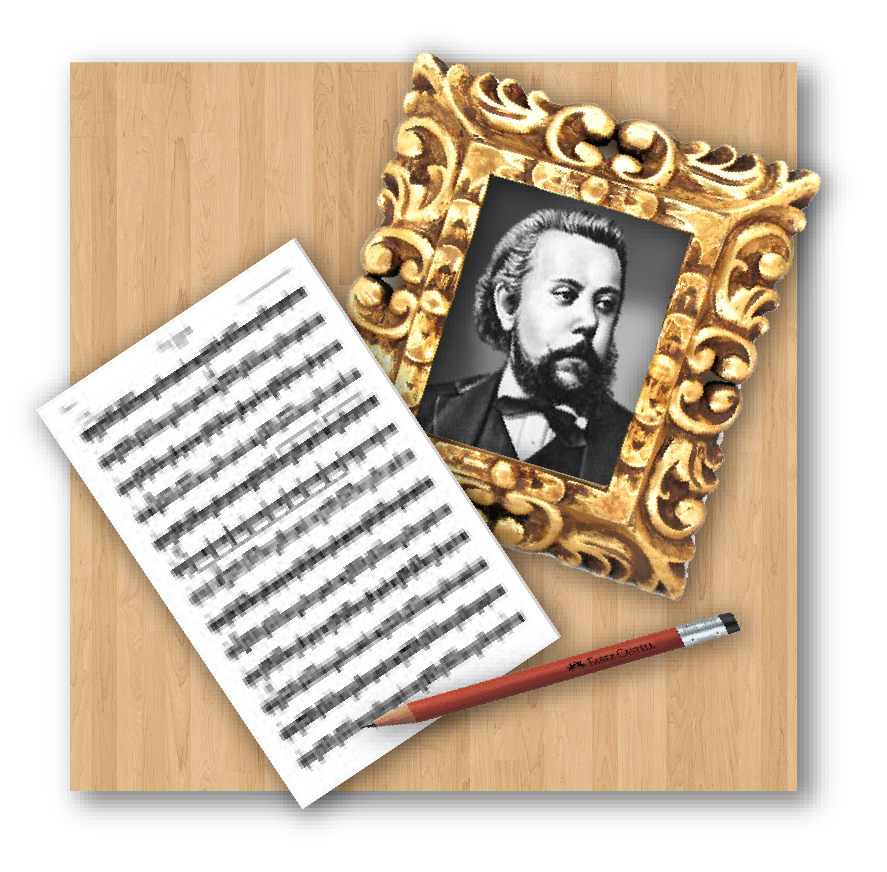 I have attached the program here for free (click on the icon to download the app) – it works on Mac, PC and Linux platforms as an AIR application.
To install it you will need to have Adobe AIR on your machine and it will run smoothly on older computers too.  I put it on my classroom laptops for students to access.
HINT: to restart your quiz, just quit and re-open the application. I have named it "Pictures at an Exhibition" so students don't get lost 😉
Why make it? Students love the visual, and most do not go home and put on a CD/Record of Mussorgsky. Maybe their only exposure to the composer may be through Disney! I have even found that some students identify famous works such as the 1812 Overture from films (Oh yes, that piece was in V for Vendetta). My goal was to get them listening, comparing and interacting with the works of Mussorgsky in the context of today's music. Hence the comparison with Emerson Lake & Palmer.
The result? My junior students loved the videos, they even commented on the use of the scores to help analyse the music. Senior students were able to take the program away, work on written comparisons and aural analyses that would otherwise not have occurred to them. I am very happy with how my first foray into an app went, let me know how you go 🙂