Ever have that group of students that spark a moment of creativity?
Or have you read a bedtime story with your son/daughter and they start making their own additions to the story?
Or have you found that you are making a lesson plan and everything just connects from the content to the final product and you think, 'where to go from here?'
iBooks is the answer. Making a project with iBooks extends your learning, the learning of your students and allows for all ideas to be communicated creatively, at once.
Daddy Can I Touch the Moon? are six simple words that my then three year-old son asked me one evening in Australia. We were looking at a giant moon and he wanted to touch it. As expressed in the book we tried everything to no avail. This quickly turned into the plans for an iBook.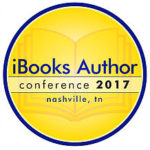 Thanks to the iBooks Author Conference, Daddy Can I Touch The Moon won iBook of the Year (Fiction), Creative of the Year, and Best Use of Hype (Animation) within an iBook for 2016.
Three amazing awards for a book narrated by my son, animated and designed by my wife, composed and storyboarded by myself and drawn by a contractor Magdalena. Not to mention the many music students who arranged, developed ideas and suggested scoring methods when I was teaching in Australia.
One student, Milly Day-Colett wrote the soundtrack featured in the video here. She did an incredible job creating the music and lyrics in GarageBand for IOS then transferring it to Propellerheads' Reason after our collaborative project with Olivia Broadfield.
Even better is that once you publish an iBook it can be shared with your whole community (students, parents, school and family). The learning lives beyond a simple project and can be updated for future versions. My school Amadeus International School Vienna recently published this article on our iBook:
Think today how you can share your learning with iBooks! Or just start learning from the amazing educators who have published materials ready to download. Not to mention there are more winners that you can read here at iBooks Author Conference Winners Blog Post 2016.
My wife @MrsLauraW and I have more iBooks that can be seen here at: